Where have I been, eh?
Well, completely out of left field, here are Thirteen Things that Maggie (usually) likes to eat.
Cheerios
Oreos
Tacos (huh, I'll take foods that end in 'O' for $500, Alex)
Fruit snacks
Cheese
Noodles
Toast with peanut butter
Oatmeal
Sausage
Nilla wafers
Ritz crackers
Chips
Banana
Yeah...this healthy list makes me look like a strong candidate for Mother of the Year! Hahahahahaha.....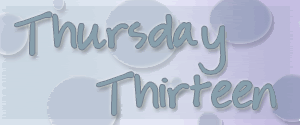 Get the Thursday Thirteen code here!
The purpose of the meme is to get to know everyone who participates a little bit better every Thursday. Visiting fellow Thirteeners is encouraged! If you participate, leave the link to your Thirteen in others' comments. It's easy, and fun!
Trackbacks, pings, comment links accepted!

View More Thursday Thirteen Participants