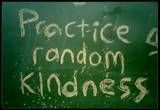 Today has been a day of receiving random kindness for Maggie and I. Here's a few things that brightened our day, in the hopes that hearing about goodness in the world might brighten your day :)
The drive-thru teller at the credit union corrected my math. Sure, it's her job, but I've had tellers before send me the slip back and forth for initials for any silly thing. I'm glad this one was able to make our visit more efficient.
The shoppers at the mall were entertained by (or at least tolerant of!) Maggie's story telling. Maggie likes talking to people, and I like when they're not rude in return.
At the post office, some man let Maggie and I go in front of him in line when he heard Maggie say she had to pee.
And then, the postal clerk let us into the office area to use their restroom!
The customers and other vendors at the event we were at tonight (and I say 'we' because Maggie came to chocolate work with me) were very nice about the kids running around. Maggie made some friends, and there was no drama.
As we left chocolate work, one of the other vendors waited outside in her car until Maggie and I were safely packed and on our way as well. It was dark in that back parking lot, and we were the last two cars!