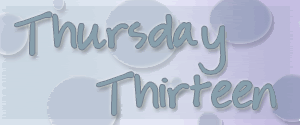 Today we have 13 Items I got in my August
Spotted Box
. The Spotted Box is a variety of items listed on the 15th of each month started at noon Eastern time. Wondering what it could contain? Here's thirteen things that were in my box for August:
Get the Thursday Thirteen code here!
The purpose of the meme is to get to know everyone who participates a little bit better every Thursday. Visiting fellow Thirteeners is encouraged! If you participate, leave the link to your Thirteen in others' comments. It's easy, and fun!
Trackbacks, pings, comment links accepted!

View More Thursday Thirteen Participants